About Aguayo Chiropractic & Wellness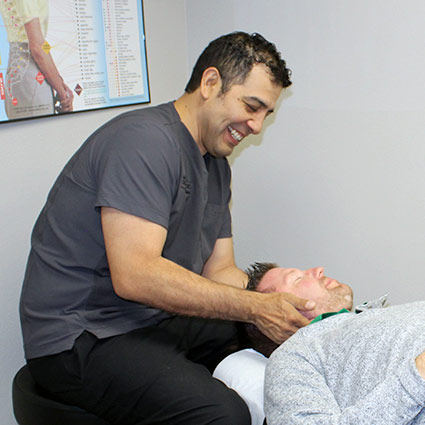 Since 2006, Dr. Jason Aguayo has provided his hometown with natural chiropractic care. He first discovered the profession when he went to Dr. McKittrick to get help for a wrestling injury. This meeting led to Dr. Aguayo choosing to follow his mentor's footsteps into the chiropractic profession.
Today Dr. Aguayo is pleased to be practicing out of the same location that Dr. McKittrick used to be in. He also carries on Dr. McKittrick's tradition of providing quality, individualized health care.
The Power of Chiropractic
"I came to see Dr. Aguayo 5 years ago. I had been in a car accident when I was 16 years old. I went through the whole gamut of procedures, x-rays, cat scans and a year of physical therapy. I was told at that time that I had degenerative arthritis in my neck. I was given a cocktail of medicine to help with the symptoms but eventually, I had to learn to deal with the pain. Finally, my husband took me to see Dr. Aguayo who assessed my condition and began a treatment plan.
The first day he adjusted my neck and instantly the headache began to disappear. After continued care, I was able to stop all of my medications. I continue to see Dr. Aguayo because I feel so much better when everything is aligned. I know that when something happens, like when I threw my back out 3 years ago, Dr. Aguayo is always there to put me back together. I highly recommend Dr. Aguayo, and I have and always will recommend him to my friends and family."
- Danielle H.
Listening Carefully to Your Needs
When you become a patient with us, you'll receive the time and attention you need for us to understand what your goals are. We'll work alongside you, restoring your hope and helping you recover your well-being. Our chiropractic care is for all ages. We have a special emphasis on caring for sports injuries and auto accident injuries.
Many of our patients started with Dr. McKittrick years ago and are still with us today. We've enjoyed seeing children grow and develop deep relationships over our years in practice.
We Accept Insurance
We're in-network providers with most plans, including Medicare. Contact our office today to schedule your appointment!

About Aguayo Chiropractic & Wellness | (406) 294-5777